Congratulations to Levy Park's Urban Open Space Award for 2018 from Urban Land Institute (ULI)
December 4, 2018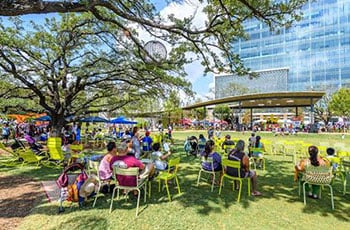 The six-acre community park was named a co-winner of the Urban Land Institute (ULI) Urban Open Space Award for 2018, which recognizes outstanding examples of successful public spaces that enhance and enrich the communities in which they reside. The award specifically recognizes open spaces promoting healthy, sustainable, and equitable outcomes in communities.
Levy Park is adjacent to BoyarMiller's office in Kirby Grove and is a key element of our office environment and culture. It reopened last year after being transformed into a vibrant public space with a variety of amenities. Congratulations to the Upper Kirby Management District, Upper Kirby District Foundation, OJB Landscape Architecture, the City of Houston Parks and Recreation Department as well as local developer Midway for its essential support in making Levy Park an exciting success story and welcome addition to the community. Read more details about Levy Park in this award announcement from ULI.
Our firm is very involved with the ULI and BoyarMiller Shareholders Hilary Tyson and Blake Royal are both leading new initiatives for the organization. Hilary currently chairs a committee for ULI's UrbanPlan, a project-based curriculum for high school and university students to learn about the practical aspects of community redevelopment. Blake is one of the three leaders who formed the Steering Committee for ULI NEXT, a new initiative for ULI Houston.
Feel free to reach out to Hilary or Blake for more information about their respective ULI committees, or to hear more about our annual BoyarMiller Real Estate Breakfast Forum, or the firm's real estate capabilities.